What's New
Past WTMA On-Air People:
Where Are They Now?
About this Site and WTMA
WTMA is Charleston, South Carolina's second-oldest AM radio station (WCSC was the first) and the only one that still has its original call letters. WTMA signed on June 15, 1939. During radio's "golden age" WTMA was an NBC affiliate and thus carried much of NBC's slate of network programming. Since 1989, WTMA has been Charleston's leading news/talk station. However, in the 1960s and 1970s, WTMA was THE Top 40 station in Charleston.
In those Top 40 "glory days" WTMA had higher cumulative ratings (per capita) than any radio station in the southeast - including Atlanta. Example: 40 shares in midways in 1974. (Is there a radio station in a large or medium U.S. market that could come close to that today?) A 1974 promotional announcement said: Every day, from 6am till midnight, more people listen to WTMA than the next four radio stations combined. Subject to limitations of source, ARB, April May, 1974.
On this site you'll find photos of WTMA air personalities and music surveys. You may also download MP3 files of old WTMA jingles, on-air production elements, airchecks, and interviews with past on-air personalities.
You'll also find like material from past Charleston radio stations WCSC, WKTM and WOKE.
We're looking for additional audio recordings of WTMA. WCSC, WKTM and WOKE as well as photos, print articles, and promotion material. Have some you'd like to share? Please contact the curator of this Website, John Quincy. We appreciate all who've contributed thus far.
We hope you'll become a regular visitor as we continue to add more content to this site as it's made available to us.
About the Curator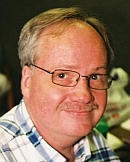 John Quincy started his professional radio career in 1972 at the tender age of 16 in Paris, Kentucky. He worked at several stations in the Lexington, Kentucky area until December of 1979 when he decided he'd had enough snowy winters and moved to Savannah, Georgia. There he continued his vocation at WKBX and then later at WZAT.
In 1981 John came up the coast to Charleston, South Carolina. He's slaved over hot microphones at Low Country radio outlets such as WSSX, WXTC, WBUB, WXLY, WSUY...and yes, even WTMA as Program Director.
After hearing WTMA's 60th Anniversary Reunion in 1999 and being disappointed that a station with the same call letters for 60 years had so little in the way of archived audio and memorabilia, John set out on a mission to locate and preserve as much of WTMA's rich history as he could, and then share it with the rest of the world. This labor-of-love Website is a result of that quest.
Thanks to all who've contributed their "WTMA Memories!"
Do you have any recordings of WTMA?
We'll be happy to digitize them at no charge.

WTMA Fast Facts
1. WTMA signed on June 15, 1939 with a broadcast originating from the Dock Street Theater. WTMA was Charleston's second radio station. (WCSC-AM was the first, signing on in 1930.)

2. WTMA initially launched at 1210 on the dial with a power of 250 watts. It moved to its current 1250 position in 1941 when its power was increased to 1000 watts. (WCSC-AM was moved from 1360 to 1390 at the same time.) In 1947 WTMA's daytime power was upped to 5000 watts non-directional day, 1000 watts directional night.

3. A few months after signing on, WTMA became Charleston's NBC Radio affiliate, eventually carrying many of the shows from NBC's Red Network. (WCSC-AM carried the CBS Network shows.)

4. WTMA is the only AM radio station in Charleston to have its original call letters. The call letters WTMA don't officially stand for anything; they were just assigned at random by the Federal Communications Commission. (One former employee joked that it meant "We'll Try 'Most Anything." John Burwell has informed us that former PD/GM John Trenton said "TMA" stood for The Most Audience.)

5. WTMA's first studios, offices, and transmitter were in Wagener Terrace on 10th Street. A short time later they moved the studios to the second floor of a drug store at the corner of King and Calhoun streets (across the street from the Francis Marion Hotel where WCSC's studios were located).
6. WTMA's studios and offices moved to 131 Church Street (a.k.a. the "Dock Street Theater") in the mid 1940s. 131 Church Street is also known as the James Huston House, c. 1809, a three-story brick single house. It still retains its street entrance, a common feature on houses used for business and residential purposes. (Huston was a merchant tailor.)
7. Around 1947 WTMA's transmitter was relocated to the Ashley River end of Orange Grove Road in West Ashley.

8. WTMA relocated its studios and offices from the Dock Street Theater to the Orange Grove Road site (also known as "One Radio Park") in 1969.

9. WTMA moved its offices and studios in October of 2001 to its current Faber Place Drive location in North Charleston.
10. In 2010 a new transmitter was purchased, and the transmitter site was relocated to a shared tower site with 1390 AM at the end of Orange Branch Road, West Ashley.

11. WTMA's first owners were Y. Wilcox Scarborough and Jesse W. Orvin. They owned it only a few months, selling it in October 1939 to the News & Courier and Evening Post (Charleston's newspapers). Interviews with the sons of the original owners can be found on the Audio Page.

12. In the 1950s, the newspaper sold WTMA to Charles (Chuck) Smith who owned it until around 1980 except for two years circa 1970 when the station was owned by Turner Communications (Ted Turner). Other owners have included Sconnix, Faircom, Jett Communications (Hugh Jett and Bill Dudley), Wicks, Citadel Broadcasting, and Cumulus Media.

13. WTMA adopted a Top 40 format in the early 1960s and was hugely successful with that programming approach until around 1980, when the station's format switched to Adult Contemporary. In the mid-80s it went oldies as "Classic Rock, Roll and Soul". On January 1, 1987 WTMA went country with mostly satellite-fed programming. On June 1, 1989 it adopted its current News/Talk format.

14. Slogans for the station over the years have included "Radio Charleston" "The Mighty TMA" "Tiger Radio" "Music Radio" "Talk Radio" "News Talk" and "The Big Talker".

15. Notable past personalities include Jack Gale, John Trenton, Booby Nash, Dan Moon, Richard Todd, and Charlie James. WCSC-TV's Bill Sharpe began his Charleston news career at WTMA.

16. WTMA was a Mutual affiliate from the 1960s until the mid-1980s. Since then it has used national network news feeds from NBC Radio, CBS Radio, ABC Radio, and Westwood One.
Corrections or additions? E-mail the curator.
Here's an article about WTMA that appeared in print in the Charleston News & Courier on Friday, June 16, 1939:

RADIO PLANS TOLD BY SCARBOROUGH
Exchangeites Hear Fellow Member, Proprietor of Station WTMA

The letters identifying Charleston's newest radio station, WTMA, were assigned by the Federal Communications Commission and have no local meaning so far as the commission is concerned, but it is possible that station officials may advertise Charleston by employing the slogan "Where Tourists Meet Always or Again," Y. Wilcox Scarborough, one of the proprietors, said in an address at the weekly meeting of the Exchange club yesterday afternoon. Mr. Scarborough, who with Jesse W. Orvin is owner and operator, outlined the two-year effort to bring a second station here. He explained that the most modern broadcasting equipment obtainable has been purchased and installed in a new building in Wagener Terrace, where both studio and transmitting facilities are located.

The station officially was opened last night when the first program was broadcast from the stage of the Dock Street theater by remote control. Starting at 7 o'clock this morning, it will be on the air seventeen hours daily. Fourteen persons are employed in the various departments, with each department having its own head, he said.

Although engineers have not been able to determine the distance WTMA's signal travels, Mr. Scarborough said he had received a message from a resident of Camden, New Jersey, saying reception during a test broadcast one morning had been good.

Harry A. Westcott, program director, comes to Charleston from Washington where he has been in radio and on the stage. He formerly was with WJSV, Washington. He recently was selected from among many applicants as an actor on Kay Kaiser's Musical Kollege. He promises many new and novel performances for Charleston radio listeners.

Mason Dixon, chief announcer and assistant program director, came to WTMA from Station WFBX, at Greenville. He is thirty-one years old and has been in radio since 1930. His first assignment was as commercial announcer on the Corn Cob Pipe Club, NBC 's weekly broadcast from Richmond. He writes and directs dramatic shows, handles commercial announcements and conducts informal programs.

Miss Meredith Smith comes to Charleston from Washington. A native of San Antonio, she was brought up in Arlington, Va., and went to school in Washington, where she attended Western High School and Marjorie Webster School of Speech and American University. She has been broadcasting since her first year of college, in every type for program from dramatic roles to sound effects. Her varied experience plus specialized courses in subjects important to the homemaker fit her especially for her post as woman's commentator.

John S. Hoar comes also from Washington, where he was associated with the Washington Civic theater and publicity division of the District of Columbia Red Cross roll call. He was a frequent broadcaster over stations of all three national networks. Born in Colorado, he was educated in Minnesota, Wisconsin and Massachusetts. He has a wide experience in dramatics and forensic activities. He has a particularly pleasing voice which should become popular with listeners throughout Coastal South Carolina.

Wylie Calder, a native of Charleston, has five years of radio experience in production and copy writing. He began his radio career at WJTL, Oglethorpe University (now WATL, Atlanta). He later joined the staff of WCSC here, and then became associated with a local advertising agency, and has many business and social contacts here.


From Billboard Magazine - September 2, 1967

WTMA, the hot 100 format station in Charleston, SC, has revamped its programming to feature more music, says operations manager Dave Loyd. He went on, "I listened to the so-called 'boss sound' in other markets, and what I didn't like was the chastity belt around the mouths of the DJs. I've got a good bunch of guys here and I didn't want to clamp down on them."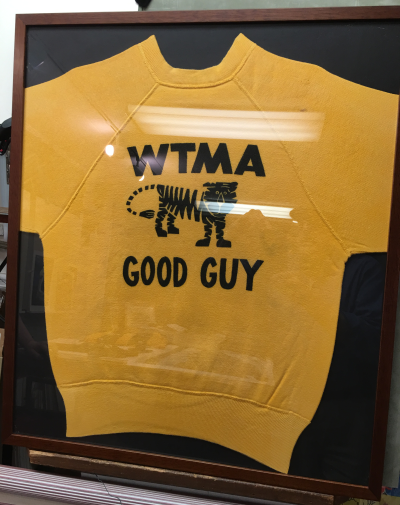 Terry Allen's "Good Guys" sweatshirt, framed for posterity
What Happened to WTMA's Top 40 Format?
WTMA continued its Top 40 approach to radio until around 1979 when, like many AM Top 40 stations around the country at that time, it morphed into an Adult Contemporary format. It had some success with that for a few years but found major competition with WCSC-AM during that time.
In 1985 WCSC's FM station (WXTC) switched from beautiful music to become the market's first AC on FM. This move, along with Charleston listeners embracing the FM dial for their music fix, pretty much marked the end of AC on AM. WTMA then experimented with a heavy R & B-flavored oldies mix and called themselves "Classic Rock, Roll & Soul". That format ran its course and WTMA became a country music station on January 1, 1987 using a satellite feed from Transtar. All the DJs and newspeople were let go. A short time later Dan Moon was lured out of radio retirement -- he was managing a cable TV system in Summerville -- and hired to be WTMA's Program Director and morning host.
On June 1, 1989 WTMA switched to a talk format with national hosts that included Rush Limbaugh, Bruce Williams, and Dr. Joy Browne. Thanks to Hurricane Hugo in September of 1989 and WTMA's extensive live and local emergency programming anchored by Dan Moon following the disaster, Charlestonians rediscovered WTMA and the station enjoyed success once again.
Besides Dan Moon, popular local WTMA talk hosts have included Nancy Wolf, Scott Cason, Roy Monroe, Charlie Thompson, Rocky D, Richard Todd, Jack Hunter, Tara Servatius and Charlie James.
October 26, 2021

We've posted a 1981 aircheck composite of WTMA competitor WKTM here.
June 7. 2020

Thanks to Terry Allen for sending us a 1988 Post & Courier column about 1960s-era WTMA DJ and PD Doug Randall. Read it here.
November 24, 2019

Added several photos to WTMA Picture Page 19 courtesy Scott Cason and Bruce Roberts.
August 14, 2018

Added several photos to WTMA Picture Page 15 courtesy Carolyn Jones. Also added a Dave Loyd newspaper feature to his listing on the DJs Page.
August 13, 2018

Added a 1980 newspaper feature on Monty Jett to the WKTM page.
April 2, 2017

We've added a 1970s memo to the WTMA DJs from the station's Production Director here.
January 19, 2017

We're sorry to report the death of popular WTMA air personality Booby Nash. A special page honoring Booby has been set up here.
January 10, 2017

A lot of great early 70s WTMA/WPXI photos have been added to Picture Page 10, thanks to Terry Allen.
January 2, 2017

We've added a lot of great WTMA photos to the Pictures pages...plus upgraded the size and quality of many of the existing ones. We also added more WTMA classic jingles here as well as improved the quality of the remaining jingle audio files.
August 21, 2016

A July 1980 WPXI aircheck sales presentation has been added here, courtesy John Burwell. A few months later WPXI -- formerly WTMA-FM -- would become WSSX.
August 10, 2016

We posted a four-part compilation of the 1970 John Trenton-produced WTMA version of "The Motown Story" here.
August 9, 2016

Added several new pics (courtesy John Burwell) on Photo Page 13.
May 30, 2016

We added new 1974, 1976 and 1977 airchecks from Gery London, John Burwell, Mad Dog Morgan and Lee Richards here. Thanks to Lee for sending them in.
March 27, 2016
Added new images to Photo Page 14 from the personal archives of John Burwell.