What's New
August 14, 2018 Several photos have been added, courtesy Carolyn Jones. Plus we've added more articles to the Features Page.
June 3, 2017 More photos have been added thanks to Madeleine Thomas.
January 14, 2017 More photos have been added thanks to Carolyn Jones.
January 2, 2017 Added a whole bunch of new photos plus a great 1980 "Station of the Year" aircheck composite. We updated the DJs page too.
March 20, 2016 Added new and upgraded pics to Photo Page 3. Added new videos to Photo Page 2 and Photo Page 3. Added a graphic link to the Facebook WCSC-WXTC Alumni Page.
August 10, 2014 Added a news report of WCSC's pre-launch activities to the "Brief History" section of the Home Page, and another picture to Photo Page 1, thanks to Margaret Hamby.
February 16, 2014 Added the news report of WCSC's debut to the "Brief History" section of the Home Page, and images to Photo Page 1, courtesy Margaret Hamby.
December 29, 2013 Added several new photos to Photo Page 1, thanks to Helen Stone Moore and Ken Nash.
September 2, 2013 WCSC Radio's final jingle package, TM's "Count On Us" has been added here.
January 25, 2011 We've added airchecks ("The Saga of Rock Charles") and other WCSC audio from 1976-1977, courtesy Robert "St. John" Wermuth.
August 15, 2010 Thanks to Rob Braddock for the two 1980 newspaper graphics that have been placed on Photo Page 3.
May 31, 2010 Two new pics have been added to Photo Page 3.

February 17, 2010 We've added a Google Custom Search box to the Home Page to let you easily search this site as well as our other radio tribute sites at once.
January 11, 2010 Our appreciation to Jackson Douglas for sending us several classic WCSC graphics, now gracing this page like the one below: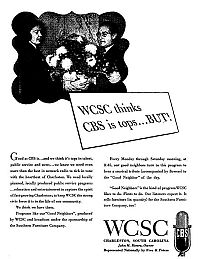 November 28, 2009 Thanks to Madeleine Thomas for the additional images added to Photo Page 3.
August 3, 2009 More pictures were added to Photo Page 3. We also updated "A Brief History of WCSC Radio" (below).
January 3, 2009 We've added 1976 aircheck and promo audio from Scott Ashley, courtesy Scott's real-life counterpart, Gerry Cunningham.
December 15, 2008 Even more mid-70s CSC shots from Robert Braddock have been posted here.
December 8, 2008 More photos have arrived -- this time from Robert Braddock. Check out another brand spankin' new page of 1970s WCSC and WXTC pics.
December 2, 2008 Thanks to Jim Bradley, we've added a 1979 WCSC audio composite, plus a solo Jim Bradley aircheck from the Summer of 1980.
November 28, 2008 Check out our new photo page with pictures from Jim Bradley, plus our beefed-up DJs page.
WCSC-AM was Charleston, South Carolina's first radio station, signing on the air in 1930 at 1310 kHz, later switching to 1360. In 1941 the station's frequency was changed to 1390. (For many years the station used the slogan "1390 since 1930" but that wasn't quite accurate.) For decades, WCSC was an affiliate of the CBS Radio Network. WCSC's original owner was Jordan & Burk Broadcasting.
1930 Newspaper Article about WCSC Radio's Pre-Launch Engineering
See the original article
More Power Is Requested
Hope to Increase WCSC to 1000 Watts - Will Open by April 1
Charleston's radio station WCSC will be of 1,000 watt power, if the application made of the increase is granted by the federal radio commission, stated Fred Jordan. He and Capt. Lewis Burk are the promoters. Request for the increase was made today in a letter written by Mr. Jordan to Eugene C. Sykes, chairman of the federal commission.

The present station, the opening of which will probably be not later than April 1, is of 5000 watt power, Mr. Jordan states, but is of such construction that the addition of another unit can be increased to 1,000 watts. Its equipment is to be of the latest design known to broadcasting, and by the addition of units can be built up to 5,000 watts, which is the goal of the local promoters.

Test programs are expected to begin about the middle of next week. These are to broadcast after midnight, a required by federal commission's regulations.

The operator of the station, Eddie Ogilvie, a former Charlestonian, arrived here Tuesday to be ready for opening the station. He is a licensed government operator and resigned his position as a "sparks" aboard a steamer in order to accept the local position. Mr. Ogilvie is the holder of a first-class government license, said Mr. Jordan, and he will be charge of the station at St. Andrew's parish when it is opened.

All the preliminary work for the construction of the plant has been completed at the radio station site in St. Andrew's parish. The building in which the transmitter is to be located with the several necessary offices has been constructed and all that remains is the installation of the equipment, which is expected the latter part of the week and the erection of the standard, which will placed by an expert of the Power Construction Co., of New York, which has the contract for the building of the station. J.C. Powell, president of the company, has written Mr. Jordan that he also will come to Charleston to supervise the work.

The plant and site were recently inspected by a deputy official for this section of the federal radio commission, it was stated, and he was satisfied with the progress made here to comply with the government's specifications for the Charleston station. On completion of the plant, it will again be inspected.

The local station is assigned to 1310 kilocycles, which Mr. Jordan reports, has been found highly satisfactory after grueling tests, both in the daytime and at night, and will afford a wide reception to programs sent over WCSC. He said that the government's records show that there are only three other stations of any size on this air channel and two of these are located on the Pacific coast and the other in the vicinity of the Mississippi river. There are numerous other stations but all of low power, mostly of 100 watts and under and the Charleston station, assigned to this wave band, has been assured of first-class clearance for a 500-watt station.

1930 Newspaper Article Announcing the Debut of WCSC Radio
See the original article
WCSC Goes on Air at 7 P.M.
With Formal Opening Program
Charleston's radio fans will be standing by Thursday night awaiting the dedication program of the local station WCSC which formally beings its regular service on the air after weeks of construction and preparations. The initial program, which is under the auspices of the city, will feature music by the Charleston High School orchestra directed by G. Theo Wichmann and a short address by Mayor Thomas P. Stoney during the first hour, beginning at 7 o'clock and promptly at 8 o'clock the Society for the Preservation of Spirituals will render a program which will make the first time that this famous organization of singers of plantation religious folk songs has ever rendered a radio broadcast. From then on WCSC will be on regular service nightly.
The frequency of the Charleston station is on the 1310 kilocycle band and its receptions has been excellent as has been testified by the numerous congratulatory messages received during its test programs of the past two weeks.
The studios of the station are location on the mezzanine floor of the Francis Mario hotel and the transmitter at St. Andrew's parish. There are numerous outlet connections which will be operated by remote control for the rendering of programs from various halls and other places about the cities where such intended for broadcasting will originate.
Fred Jordan and Capt. Lewis Burk are associated in the ownership of the station under the name of Jordan & Burk Broadcasting. R. E. Mitchell, formerly connected with WJAX at Jacksonville has been named as program manager; Edward F. Ogilvie, engineer; and E. W. Hinton, continuity expert.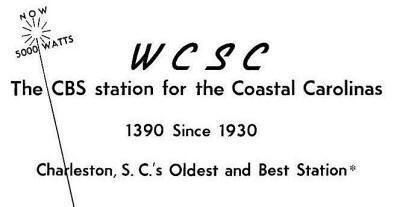 In 1937, John M. Rivers joined WCSC-AM radio as president of the South Carolina Broadcasting Company, the licenser of WCSC. In 1938, he became president and manager of WCSC Radio. Rivers purchased the station in 1944.
In 1948, WCSC-FM (later WXTC-FM) went on the air; in June of 1953, WCSC-TV, the first VHF television station in South Carolina, became operational. Rivers became chairman of the board of WCSC, Inc., in 1973.

In the 1950s and '60s, WCSC Radio's format could best be described as MOR ("Middle Of the Road"). There was a switch to Top 40 in the early 1970s as WCSC tried to compete head-to-head with long-time Top 40 leader WTMA. In the early '80s WCSC's format morphed into an Adult Contemporary presentation with a full-service approach. In 1983, it became Charleston's only AM stereo station.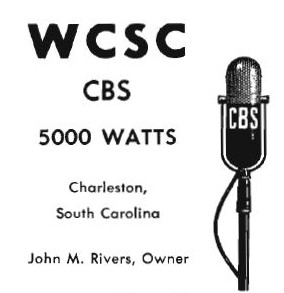 By the time the Rivers family sold the station in 1987, the station had switched to all-oldies supplemented by sports and talk shows (like Tom Snyder's ABC offering). WCSC-TV was sold to Crump Communications at that time, and kept the WCSC call letters. WCSC-AM and WXTC-FM were sold to New York's Ralph Guild (of national ad representative "McGavren Guild" fame). WCSC Radio became WXTC-AM.
Later call letters for 1390 in Charleston included WZKG (June 12, 1989) and WCSE (January 13, 1990). 1390's calls eventually returned to WXTC (August 19, 1991) and for many years the station had a black gospel format. Owners included Wicks Broadcasting, Citadel Broadcasting and Apex Broadcasting.

From the June 11, 2007 edition of RBR
Citadel swaps out an AM
Here's one that's a bit on the unusual side. Citadel Broadcasting is doing a two market cash/swap deal with the Pearce family's Apex Broadcasting, but it only involves one radio station. Apex will get WXTC-AM Charleston SC, adding it to its three area FMs, WAVF-FM, WXST-FM & WIHB-FM. What does Citadel get in return? A tower in Tuscaloosa AL, where it also owns a two-AM, four-FM cluster. Apex will also pay 70K cash. Citadel will remain with a strong presence in Charleston, with WMGL-FM, WNKT-FM, WSSX-FM, WSUY-FM, WTMA-AM, WWWZ-FM.
In early 2009 WXTC jettisoned gospel music for a classic soul format.
On June 16, 2009 the call letters were changed to WSPO and the format became all-sports. In 2012 the station adopted an "all tourist information" format which aired until June 2015. WSPO then ran a business news format until February 7, 2015 when black gospel music returned to the signal and the "Heaven 1390" moniker was reinstated.
The station operates with a power of 5000 watts non-directional day, 5000 watts directional night. Studios are East of the Cooper on Clements Ferry Road. The transmitter is on Orange Branch Road in the West Ashley area.
The above time-lapse video shows the 2009 removal of the 1390 tower built in 1947.