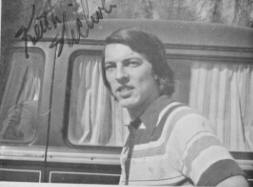 Longtime Charleston broadcaster Keith Nichols passed away on Sunday, January 27, 2008 after losing a battle with cancer.
While most Charlestonians remember Keith for the two decades he was on the air at WCSC-TV, he worked at WTMA twice: in the late '60s as a newsman, and 1973-1975 as a DJ and production director.
We are fortunate to have several of Keith's WTMA airchecks online, as well as a two-part audio interview feature recorded in 2004.
Keith Nichols will be missed by many.
The WTMA Morning Show Remembers Keith Nichols
January 28, 2008
12:16 - 5836 KB

Keith Nichols dies at 57
The Post and Courier
Monday, January 28, 2008

Keith Nichols, the last original staff member of Channel 5 WCSC-TV's morning news show, died early Sunday after a three-year battle with lymphoma, the station said Sunday. He was 57.

Nichols began working for Channel 5 as the morning weatherman during 1985. He left the station in October 2005 after being diagnosed with bone-marrow leukemia.

Although Nichols' chemotherapy treatment was successful initially, Nichols decided it was time to move on from Channel 5. "I'm tired," he told The Post and Courier in 2005. "I want to do something else."

Bill Walsh, WCSC chief meteorologist, said that Nichols' cancer had returned.

Nichols began his career in 1964 as a radio broadcaster in Newberry. At WCSC, Nichols also was responsible for the feature, "You Gotta Eat," which showcased local restaurants. Walsh said Nichols had been doing computer consulting work since leaving Channel 5.

Nichols is survived by his wife, Beth Nichols. Stuhr's West Ashley Chapel of Charleston is in charge of the private arrangements.


WCSC-TV aired this tribute piece shortly after Keith's death

NICHOLS, Keith Keith Lewis Nichols, age 57, died peacefully in his sleep, Sunday, January 27, at Roper Hospital. The family will receive friends this Wednesday afternoon, January 30, 2008 from 5 until 7 o'clock at J. HENRY STUHR, INC., WEST ASHLEY CHAPEL, 3360 Glenn McConnell Pkwy., Charleston, SC 29414. Relatives and friends are invited to attend 11 a.m. Graveside Services on Thursday, January 31, in Charleston at Live Oak Memorial Gardens (Hwy. 61) and a Memorial Service at 3 p.m. at Lutheran Church of the Redeemer. He is survived by his wife, Elizabeth (Beth) Roddey Nichols, his daughter, Kristen Nichols Voyer (Bryon), and his parents Lewis and Norma Nichols of Mt. Pleasant. Nichols was born in Newberry, SC, where he earned his Eagle Scout badge in 1965. He graduated from Newberry High School in 1968 and earned degrees in Journalism from the University of South Carolina in 1972 and in Meteorology from Mississippi State in 1994. His broadcasting career began at WKDK in Newberry during his high school years. He worked as an announcer at WNOK AM and WUSC AM in Columbia while in college. Upon graduation, he joined the staff of WTMA in Charleston and eventually became an anchor, producer and Assistant News Director at WCIV. Nichols moved to Omaha, NE, in 1979, and served as News Director of KMTV. He returned to Charleston in 1985 and was Morning Weather anchor at WCSC-TV, where his featured series You Gotta Eat was popular throughout the Low Country. A long-time supporter of Gamecock athletics, Nichols spent some of his happiest moments in Williams Brice Stadium and on the campus of his beloved Carolina. Nichols' favorite charities were March of Dimes and Muscular Dystrophy Association. He hosted the MDA Telethon for a number of years. He had also served on the Church Council of Lutheran Church of the Redeemer and was active in the South Carolina Via de Cristo. In lieu of flowers memorials may be made to Lutheran Church of the Redeemer, 714 Riverdale Drive, Charleston, SC 29407; South Carolina Via de Cristo, 1000 Johnny Dodds Boulevard, Suite 103-1001, Mt. Pleasant, SC 29464; and the Leukemia & Lymphoma Society, 300 West Coleman Boulevard, Suite 206, Mt. Pleasant, SC 29464.

Keith Nichols WTMA Airchecks
All audio is in downloadable MP3 format

Keith Nichols (3-6-73)
(10:58)
3857 KB
Keith Nichols (6-4-73)
(9:38)
3388 KB
Keith Nichols (Summer '73)
(11:53)
4181 KB
Keith Nichols (1975)
(18:43)
6586 KB
Keith Nichols 2004 Audio Features
All audio is in downloadable MP3 format

Keith Nichols Feature - Part One
(4:09)
1464 KB

Keith Nichols Feature - Part Two
(4:30)
1588 KB
_________________________
Are you a former WTMA employee or listener with a story to share?
We'd love to hear from you! E-mail John Quincy.